Monday, October 2, 2023 / by Derek Turci


Your Market Update for September 2023
As we expected, there were only 1,920 sales registered in September in Greater Vancouver. Although not as low as the 1,695 registered sales of last September it was still 32% lower than the 10-year average.
The Average sales prices for condos and townhouses crept up from August and only detached homes saw some correction. This makes sense because the sales-to-active ratios for condos and townhouses still favoured sellers and only detached homes favoured buyers.
Report from the Front Lines
Our experience last month could be summarized by one word - spotty. For the most part, open house attendance and private showing requests were lower than expected, especially since the Bank of Canada decided to keep rates unchanged. Even sharply priced homes attracted less attention than usual indicating that there's a smaller pool of active buyers for condos and detached homes. Townhouses were certainly more active, especially those at lower price points but still not nearly as active as in the spring. Multiple offers did happen, but most offers contained subjects and very few got the over the top prices that were the norm back in the spring.
Some possible reasons for the slow start to the fall market could be the threat of another rate hike before the end of the year and the fact that prices have yet to see any meaningful correction from the two rate increases we saw during the summer. As seen in the charts above, we saw much more dramatic corrections during the second half of 2022 than we have this year. However, keep in mind that the rate hikes we experienced this year were nowhere near as severe as those of last year.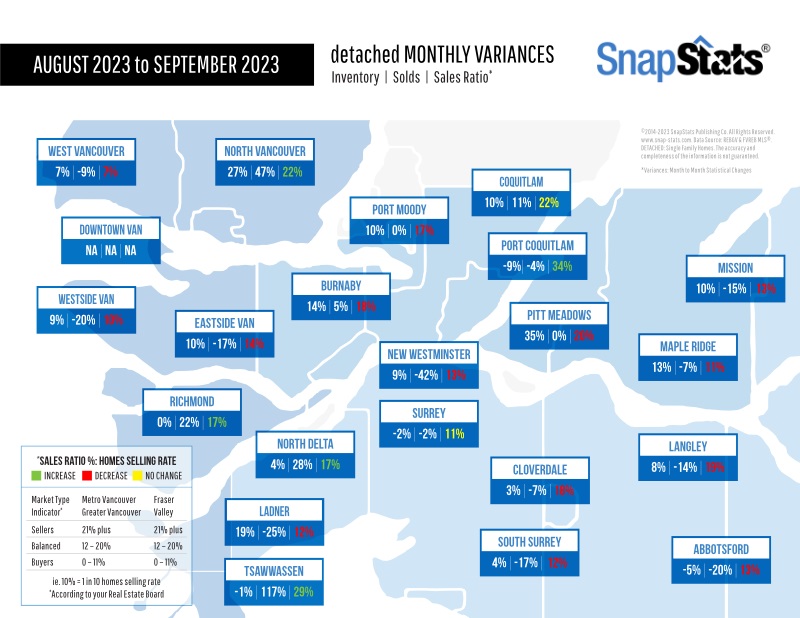 Monthly variance for detached homes throughout the region
What's Hot & What's Not

Attached
The hottest areas in order are: Ladner, Cloverdale, Port Moody, Port Coquitlam & Abbotsford. The slowest areas in order were: Mission, Downtown Vancouver, Westside Vancouver, West Vancouver & East Vancouver.

Detached
The hottest areas in order are: Port Coquitlam, Tsawwassen, Coquitlam & North Vancouver
The Slowest areas were: West Vancouver, Westside Vancouver, Maple Ridge, South Surrey & Ladner.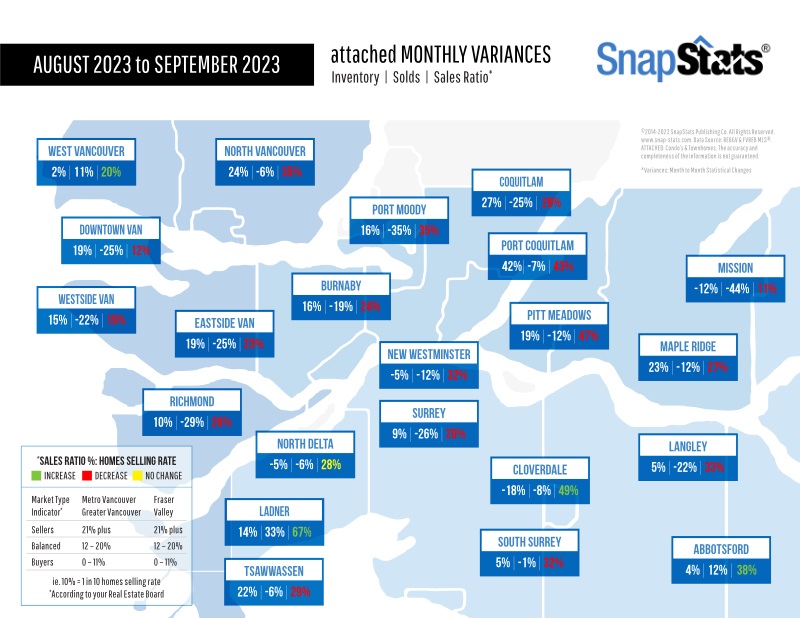 Monthly variance for attached homes throughout the region
---