Monday, November 6, 2023 / by Derek Turci


Your Market Update for October 2023
Greater Vancouver sales increased slightly from 1,918 in September to 1,996 in October. However, the Fraser Valley actually saw a slight decline from 1,033 in September to 920 in October. When compared to the same time last year, this represents a 4% increase for Greater Vancouver and a 7% increase for the Fraser Valley.
Townhouses continue to be the top seller in both regions followed closely by condos with sales ratios slightly favouring sellers. Detached homes continue to favour buyers with a 13% sales-to-active ratio in Greater Vancouver and a 12% ratio for the Fraser Valley.
What About Sales Prices?
Sales prices continue to remain stubbornly sticky in Greater Vancouver with no notable reductions in price since the summer rate hikes. We are starting to see some correction out in the valley with detached homes sliding from a median price of $1.5 mill in May to $1.4 mill in October.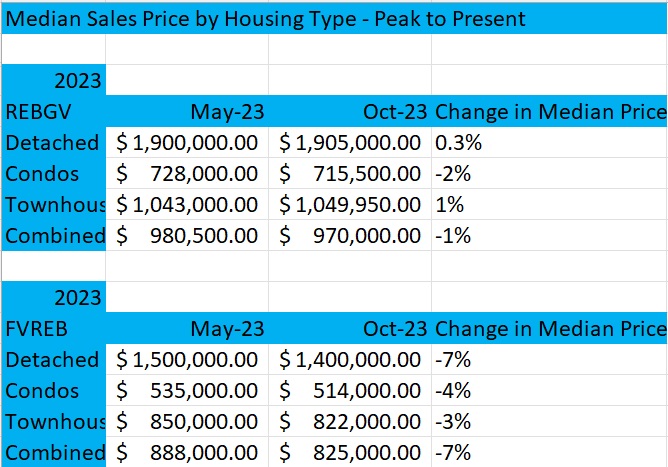 Report from the Front Lines
Current interest rates continue to be the biggest concern for both buyers and sellers. Even though the Bank of Canada left the prime rate unchanged at 7.2%, we didn't see much of an increase in buyer activity as a result.
Buyers are very sensitive to pricing and they're certainly choosing to do more comparative shopping. It's not unusual for buyers to want to look at numerous properties in multiple tours before making a decision on which properties to pursue.
It's all about value and homes that are even slightly overpriced receive very few showing requests. Conversely, sellers that under-price their homes in the hopes of receiving multiple offers run the risk of being disappointed because many buyers are not willing to compete and risk overpaying for a home.
Best Practices for Sellers
Price Sharply:
Your pricing should make your home pop in the eyes of the buyer. Buyers currently have plenty of options for most housing types and an attractive price is the best way to convey value to them.
First Impressions Matter
: Now more than ever, you need to create an amazing first impression. Many buyers are already struggling to see the value of buying in today's market. A marketing strategy like our 30+ Point Marketing Plan will create excitement around your listing.
Put Yourself in the Buyer's Shoes
: Buyers are currently dealing with lower mortgage approvals, a lot of media noise and sticker shock when they see how much their mortgage payments will be. Although it can be very hard to think about this when you're trying to get top dollar, having an open mind to the realities of the market could be the difference between a sold listing and an expired one.
It Might Take More Time:
Even if you're sharply priced and you have a great marketing plan like ours, it might take more time to sell your home in today's market. This has a lot to do with the fact that many buyers are comparison shopping and may take several weeks of touring before deciding. The average Greater Vancouver home takes 27 days to sell according to the October stats.
---